An Introduction to 5G Architecture
The 5G architecture has some unique features like network slicing and full virtualisation that opens opportunities for new value services within the network.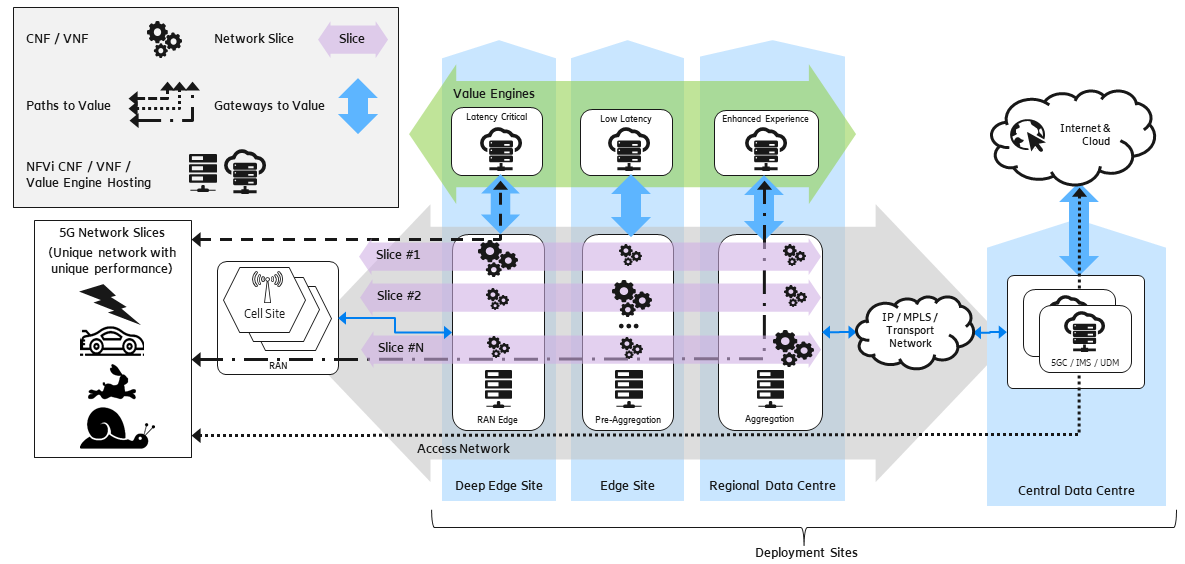 This introduction to 5G architecture, provides a capabilities view as context to consider how 5G can enable alternate network service delivery models.  The purpose is to translate the technical capabilities  5G provides into a small set of basic build blocks, to highlight how 5G differs from 4G/LTE.
The article is the first of two, this one looks at the architecture and Part 2 looks at the business model.
---
As this is about the architecture, here is my "simple" illustration of 5G Architecture and why "it's different this time":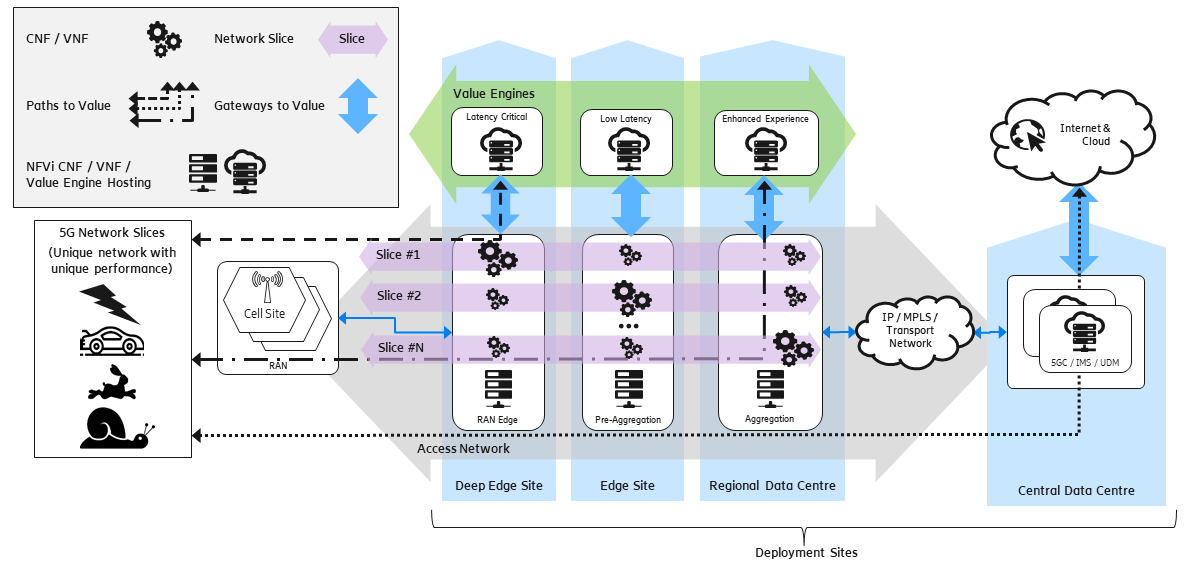 The 5G network architecture provides a wireless "Access Network" with (tracing left to right):
a Radio Area Network (RAN),
IP network underlay / overlay networks (RAN Edge, Pre-Aggregation, Aggregation) providing connectivity
via "IP / MPLS / Transport Network" to
Central Control (3GPP) applications including (for illustrative purposes here): Enhanced/Evolved Packet Core (EPC), IP Multimedia Sub-System (IMS) and Unified Data Management (UDM - provides 5G functions simillar to Home Location Register (HLR) & its friend Visitor Location Register (VLR) for roaming support).
As users we experience this via our phones (EUD's End User Devices) which: connect and authenticate with the Wireless Network via the UDM, where our SIM / IMSI / Phone Numbrer subscriber information is provisioned, opening communications traffic for voice (to other subscribers and phones systems) or data services (browse the Internet) via IMS which provides a gateway to various cloud services available.  All very Monty Pythonesque at this level to the technical experts ;-) .
The communications services providers (CSPs) deploy their network assets at various "Deployment Sites". Moving from right to left the sites go from Central Data Centre (per State) to Regional Data Centres to Edge Sites (even more broadly deployed and smaller footprint sites) to Deep Edge Sites (very small footprint sites that could exist at the wireless antenna bases).
In the current wireless network (3G/4G/LTE) the access networks are mostly built from physical networking elements (NEs).
In 5G the same topology exists but rather than having sites populated with physical NEs, instead each site contains Network Function Virtualisation infrastructure (NFVi). These NFVi PoDs (built from general purpose computing and networking components) host Virtual Network Functions (VNFs) and Cloud Native Network Functions (CNFs). In the 5G architecture the NFVi is not just a "nice to have", rather the telco equipment manufactors (TEMs) for 5G Cores are building their solutions as cloud native (containerized) components that can be deployed dynamically across the distributed NFVi infrastructure. The 5G core is being built with the same technologies (Kubernetes, OpenStack, Ceph etc) that  web-scalers and digital natives build their cloud applications on. The result is a distributed Network Cloud.
Another significant change introduced with 5G are "Network Slices". This allows a single set of physical infrastructure to provide completely isolated and independent wireless networks across it. These network slices work from the Radio Access Network (RAN) all the way through to the Central Data Centre deployed VNFs / CNFs.
The "Network Slices" can support optimising the architecture's cost and operational and performance characteristics, by instantiating the CNF & VNF components differently across the Network Cloud. This is illustrated in the model by the varying size of the deployed function across the different slices.
In traditional wireless network most of the "Value" processing components, are provided by "Over The Top" (OTT) functions residing at the Point of Interconnect (in central data centre) or as cloud based services on the Internet.  In 5G architecture it is possible to provide gateways to these functions anywhere within the network topology. In the model these are illustrated as "Gateways to Value" (in 3GPP parlance this is provided by Packet Gateway and Service Capability Exposure Function - SCEF). The "Value Engines" that sit on top of the "Access Network Slices" provide a further layer of virtual function hosting for the "Value" services.
Thus the 5G architecture can provide alternate "Paths to Value". The "Value Engines" could be hosted on the same NFVi infrastructure as the Access Network VNFs / CNFs or on its own virtualised infrastructure.  The "Value Engines" could also be operated independently from the "Access Network" functions and might have completely different organisational owners. How to deploy the "Value Engine", be this on shared or specific infrastructure or using alternate organisational providers is a business strategy decision that will have to consider: organisation capability & ambition, security, performance and other concerns.  The virtual "Gateway to Value" is a critical enabler for integration from Access Network to Value Engines.
The model illustrates the creation of alternate deployment architectures with alternate "Paths to Value" for:
Latency Critical (lightning) – functions typically needed for  control systems and other use case where latency is critical and processing must occur as close to device a possible (autonomous vehicles or drone controls being favourite use cases),
Low Latency (racing car) – functions  an example might be car sat-nav systems, which must provide timely map data refresh to be useful
Enhanced Experience (hare) – where user experience is significantly improved through provision of responsive UI, as happy customer is a retained customer
Traditional Path (snail) – this follows all the way though to Point of Interconnect (POI) for value processing and provide the cheapest way to deploy functions.
In a mature 5G deployment, the operational architecture variation are not instantiated statically rather they are provisioned and managed automatically via 5G slice aware orchestration and network management solutions.
In summary the 5G architecture is different because:
All 5G Core network functions are provided by: VNF / CNF based software
NFVi CNF / VNF / Value Engine Hosting environments are provided ubiquitously across all sites
Network Slices allow sharing of physical infrastructure and cost / performance optimised deployment
Alternate Paths to Value allow cost / performance optimised architectures via Gateways to Value (CNFs/ VNFs) for access to Value add (OTT) services within the network rather than at Points of Interconnect (POI) at Data Centre sites
The architecture is managed dynamically through orchestration and automated network management.
Oh - and yes, 5G will provide a much faster network connection for you when you purchase your new 5G handset.
---
References & Links:
The real 3GPP Architecure - the 5G architecture is highly sophisicated in the capabilities it provides and the technical mechanisms it uses. See here for deeper details
5G Wiki - must have a wikipedia link ;-0
5G at the "G" - Ericsson and Telstra trial 5G at Melbourne Cricket Ground
IMS - Internet Multimedia Sub-System, is a part of overall 3GPP specified wireless communications stack, which amougst other parts includes SIP (Session Initiation Protocol) VoIP componentry
UDM - Universal Data Management provides the subscriber lookup services for SIM / IMSI / Phone Number as per Home Location Register (HLR) / Visitor Location Register (VLR) component of GSM wireless network
SCEF - Service Capabilities Exposure Function (3GPP - Requirements Document - 3GPP TS 33.187 V13.0.0 (2015-09))
Monty Python - How to Rid the World of All Known Diseases (a noble ambition indeed)
Cloud Native Computing Foundation (CNCF) - the new reference architecture for web-scale applications development
"5G for Growth & Survival – Why Telco's need 5G" - Part 2 of 5G articles this covers the business model
---
Icon Analogies & Credits:
Snail - your current 3G, 4G, LTE Architecture has Wireless Access Network terminated at POI, which provides Gateway to Value
Hare - 5G option for better experience with shorter Path to Value than traditional wireless architecture
Racing Car - 5G option for low latency applications with short Path to Value for critical functions
Lightning (MS Powerpoint) - 5G option for latency critical (Ultra Reliable Low Latency Communicatons - URLLC) shortest Path to Value for our favourite 5G enabled use cases including "automonous cars", "control networks" etc
---
NOTE 1: This business architecture view is informed by discussion with Walter Kozlowski (Telstra Chief NFVi Architect) & Paul Bramich (Ericsson GM Telstra Digital Solutions)
NOTE 2: While author is current employee of Ericsson (Australia / New Zealand), this material (right and wrong) and opinions are the authors
NOTE 3: My reference to Monty Python brought to mind the scale of ambition of Bill & Melinda Gates Foundation, incredible in its (their) humanitarian purpose