macOS Big Sur - Media File Update
Notes on upgrading to macOS Big Sur and media file.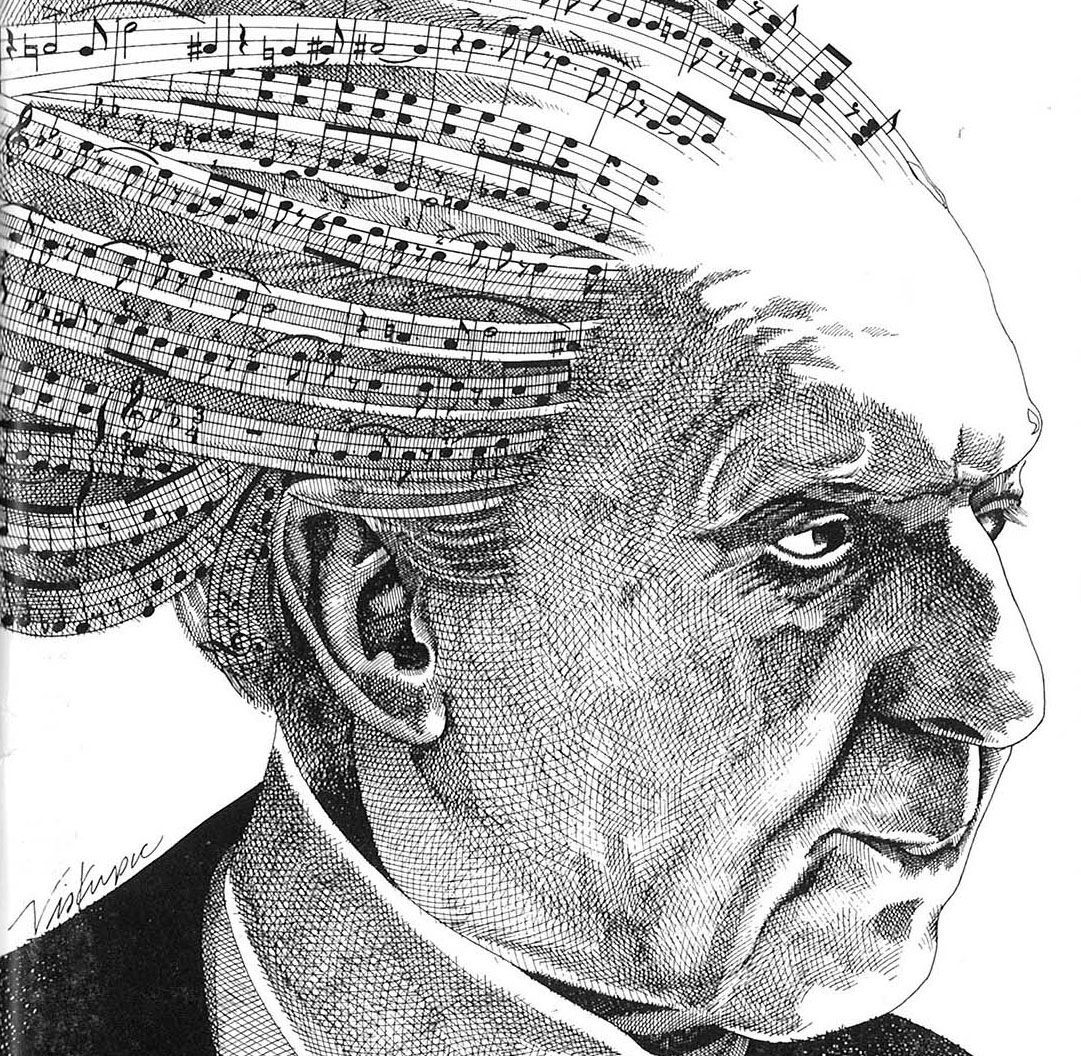 Status - August 2021 - Have done two upgrades from Catalina and validated results. Need to do: a jump upgrade from High Sierra/Mojave to Big Sur to see how this goes. I have tried to do jump upgrade test but have run into trouble as my testing was via KVM virtualised Mac and this is failing to upgrade to "Big Sur", so have been unable to test, as I don't have spare physical Mac to do this with.
---
Like many others I upgraded my main Apple macOS based media machine to Catalina in late 2019. Rather than giving myself a nice Christmas present I found that the Catalina update broke the iTunes media management application. In particular the shift from iTunes to new Music, TV and Podcast and inbuilt media sharing broke:
Being able to have single folder / directory for all your iTunes media and
The iTunes cover art that had been collected over many year of importing media into iTunes vanished
To help others who came across the same problems I posted on: "macOS Catalina and iTunes Media Files" and have received quite a few feedback and thanks notes on this posting and people have asked if "macOS Big Sur" either further breaks or fixes some of the problems with the new Cataline media applications:
Hi John -
Earlier this year I was having serious problems working with my iTunes library following the transition to Catalina, and your article was an indispensible resource as I worked to resolve a series of issues. Thank you so much for having taken the time to research and write it!

This month I've upgraded many of my Macs to Big Sur, but my main iTunes library lives on a 2013 iMac that is not Big Sur upgradeable, so I've got to manually migrate my library from that machine (Catalina) to one of my newer Macbook Pros (Big Sur), probably using a cloned external HD.

Given what a mess the Music app has become, I'm worried about this transition, particularly album artwork, since that's now stored in Library/Containers/com.apple.AMPArtworkAgent/Data/Documents, and I'm not sure if I can just copy that wholesale to the new machine as well.

Before I embark on this journey, have you seen any structural or architectural changes to the way Big Sur Music operates thus far compared to your Catalina insights from a year ago, that you think I should bear in mind, or that might change my approach?

Thank you so much for taking the time, and again for having written the original article.

Warmly,
XXXX XXXX
I have now upgraded two Catalina machines to "Big Sur" and can report mostly good news...
---
Upgrading from Catalina to Big Sur
Unlike upgrade to Catalina, there are no new big surprises in media file management in upgrading to "Big Sur". The media files locations continue unchanged from Catalina, as documented in my Catalina blog.
The same preference setting for Music and TV for management of the core media files are unchanged in Big Sur: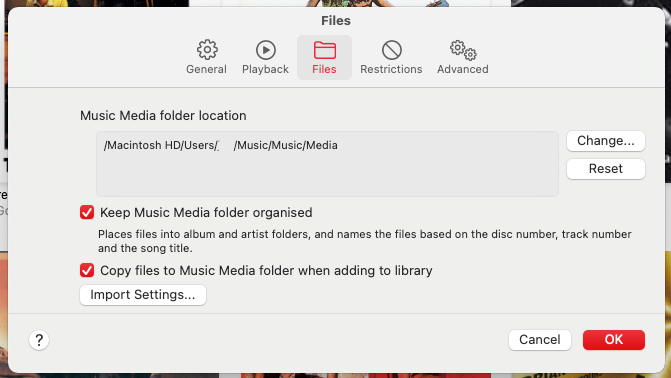 As with Catalina the Podcasts application does not provide a selection of where files are stored, with location unchanged:
Podcasts - "~/Library/Group Containers/243LU875E5.groups.com.apple.podcasts/Library/Cache", unchanged from Catalina
iBooks - "~/Library/Containers/com.apple.BKAgentService/Data/Documents/iBooks/Books", location is unchanged from Catalina and I have have not experienced disappearing contents from Catalina or Big Sur which was a prior and very frustrating bug
And the really good news on "Big Sur" and Music Cover art is that it now seems that the Cover Art bug is fixed.
If you had cover art embedded in your music media files, then Big Sur Music now renders these correctly and if you are missing the cover art then the right click "Get Album Artwork" is now more responsive.
If Music cannot find the cover and it is not available within the media file, then you will still have to manually update it using the "Get Info - Artwork" menu: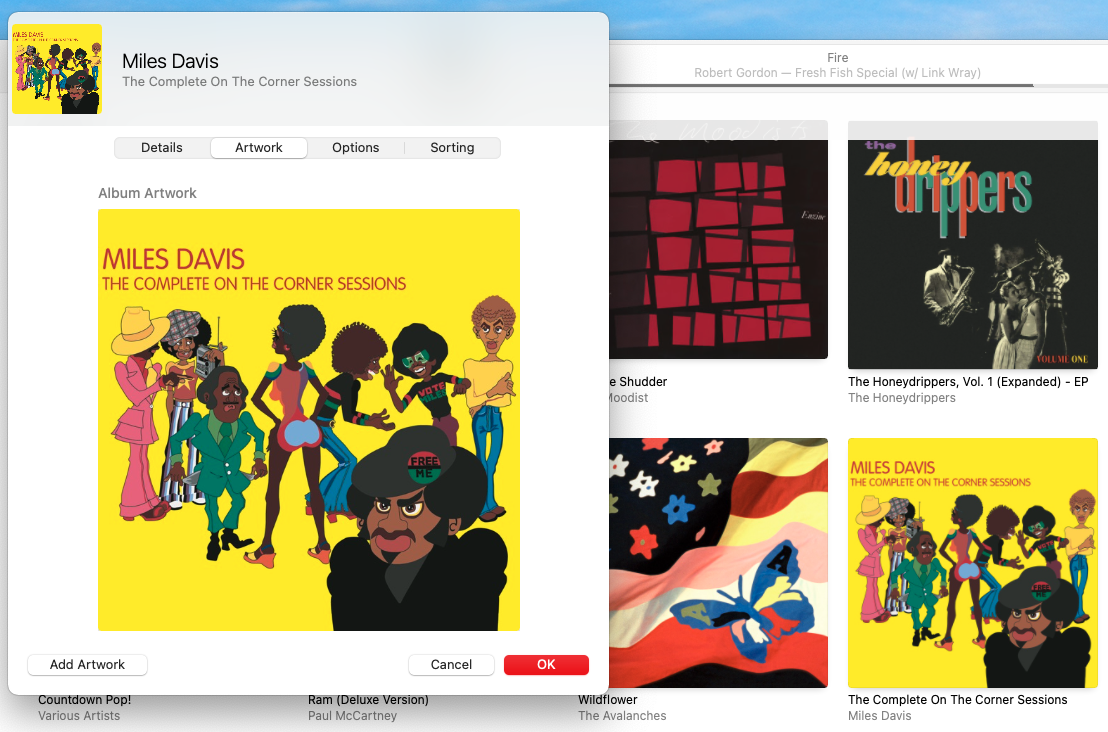 In summary "Big Sur" uses the same media locations as "Catalina" and there are some fixes to the Cover Art and iBooks applications that means there are improvements for media users.
NOTE: Be aware that this blog is about media files and content and not other changes from Catalina and Big Sur. In particular a Big Sur upgrade has the potential to break some Kernel Extensions (ktexts) and drivers that worked with Catalina.
---
Jump Upgrade from High Sierra / Mojave to Big Sur
Given that Big Sur has some fixes in the Cover Art handing, could you avoid some of the problems that surfaced and surprised as with the Mojave to Catalina upgrade ?
I just need to find a spare couple terabyte of storage to make this test useful and see that happens with a large media library.
I will run a test upgrade for this case and provide an update once done...
NOTE: This hit stumbling block of Big Sur upgrade failing with KVM/Clover/OVMF based MacOS test rig...
---
Catalina and Big Sur - Media File Locations and Guideance
The Absolute Sound - Ground breaking top end audio magazine and source of graphic is from its Covers Gallery from Volume 3, Number 12 Late Spring 1978, the year when Punk flooded the sound waves and new wave smoothed the radio airways